Research article

Open Access

Open Peer Review
This article has Open Peer Review reports available.
Responding to the health needs of survivors of human trafficking: a systematic review
BMC Health Services Research
BMC series – open, inclusive and trusted
2016
16:320
Received: 13 October 2015
Accepted: 7 July 2016
Published: 29 July 2016
Abstract
Background
Despite the multiple physical and psychological health consequences associated with human trafficking, there is little evidence-based guidance available for health providers on assessing and meeting the health needs of trafficked people. We aimed to review literature that provided guidance or research on care provision for people who had been trafficked.
Methods
We conducted a systematic review and qualitative analysis of peer-reviewed and grey literature. Data sources included electronic databases, reference list screening, citation tracking, and expert recommendations. Documents were included if they reported on: 1) male or females (adults or children) who were currently or had previously been trafficked; 2) health interventions or service provision; 3) primary, secondary, tertiary or specialist post-trafficking services; and 4) World Bank high income countries. Two reviewers independently screened and quality appraised documents. Framework analysis was used to analyse extracted data.
Results
Forty-four documents were included, 19 of which reported findings of primary studies and nine of which exclusively addressed children. Evidence to inform the identification, referral and care of trafficked people is extremely limited. Within current literature on survivor identification, key indicators included signs of physical and sexual abuse, absence of documentation, and being accompanied by a controlling companion. Findings highlighted the importance of interviewing possible victims in private, using professional interpreters, and building trust. For provision of care, key themes included the importance of comprehensive needs assessments, adhering to principles of trauma-informed care, and cultural sensitivity. Further prominent themes were the necessity of multi-agency working strategies and well-defined referral pathways.
Conclusions
Human trafficking survivors require healthcare that is trauma-informed and culturally sensitive to their particular needs. Coordination is needed between health providers and statutory and voluntary organisations. Future research should generate empirical evidence to develop trafficking indicators for use by health providers, alongside validated screening tools, and evaluate the effectiveness of psychological interventions.
Keywords
Systematic review
Qualitative
Human trafficking
Violence
Background
Human trafficking, which is estimated to affect 20.9 million people worldwide, is a serious crime and a violation of human rights [1]. It involves the recruitment and transportation of people – often by the use of force, fraud, deception or coercion – for the purposes of exploitation [2]. People may be exploited for forced sex work, domestic servitude, forced labour in industries such as construction, agriculture, fishing, factory labour, and in forced criminal activity.
Although evidence on health and human trafficking is limited, a systematic review found that human trafficking is associated with high levels of physical and sexual violence prior to and during trafficking and a range of health problems in the post-trafficking period [3]. Studies with survivors identified high prevalence of depression, anxiety and post-traumatic stress disorder and symptoms such as headache, fatigue, dizziness, and back and stomach pain [3–5]. A number of policy and guidance documents describe assistance measures to respond to the needs of trafficked persons, which include medical and psychological care [6, 7], yet there still appears to be little evidence-based guidance available on how to plan, assess or provide for the health needs of trafficked adults and children. Healthcare professionals believe they have insufficient knowledge and lack confidence about how to respond appropriately to the needs of trafficked people [8, 9]. Recent research in health organisations in areas with high numbers of trafficking victims identified by police in England, suggest that 13 % of health professionals had been in contact with a person that they suspect has been trafficked [8]. Such findings underlie the importance of professionals increasing their preparedness to identify potential cases of human trafficking and make appropriate referrals.
This review synthesises evidence on current knowledge and practice in responding to the health needs of trafficked people, specifically exploring identification, referral and provision of care by the healthcare sector.
Results
As shown in Fig.
1
, 44 papers were included in the review. Searches identified 9,356 documents for title and abstract screening and 510 documents for full text screening. Full text papers included 18 peer-reviewed journal articles, three conference poster presentations, 20 published reports, two unpublished dissertations, and one unpublished report. Of the 44 included papers, 19 reported the findings of primary studies. Three authors were contacted with a request for additional data; only one author was able to provide additional information [
17
].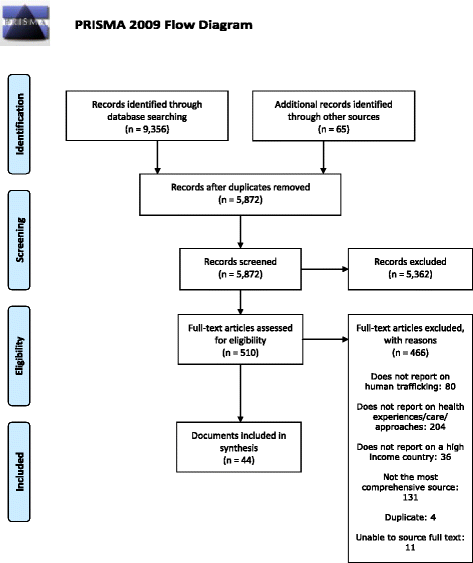 The key themes that emerged from the literature concerned: promoting disclosure; providing care; ensuring safety; supporting recovery; working in partnership; and developing services. Each is discussed in detail below.
Discussion
To our knowledge, this is the first review to synthesise information on identifying and responding to human trafficking in healthcare settings. The review highlights the lack of empirical evidence to support the identification, referral, and care of victims of trafficking in healthcare settings and identifies priorities for future research in this area. However, analysis of the available literature suggests a general consensus regarding important aspects of care, for example, the benefits of comprehensive, tailored, and continuous support for survivors of trafficking from the point of identification through to long term recovery, and an emphasis on trauma-informed, culturally appropriate care. Table
1
details our recommendations for healthcare providers based on our analysis and synthesis of the literature. Recommendations address the steps providers should take to improve preparedness to respond, disclosure, immediate responses and ongoing care.
Table 1
Recommendations for response to human trafficking victims
Points of contact

Recommendations for service providers

Promoting Disclosure

Attend training on human trafficking.

Be aware of identifiers.

Develop safety protocols for patients and staff.

Have awareness of referral pathways.

Initial Contact

Create a private space for patient interaction.

Be non-judgemental and sensitive.

Be aware of issues around confidentiality.

Provide choice regarding the gender and cultural background of interpreter.

Immediate responses to disclosure

Ask case relevant questions.

Gain informed consent.

Follow protocols created for similar populations.

Carry out comprehensive needs assessments.

Provide holistic care addressing health and social care needs.

Employ trauma-focused approaches.

Offer longer appointments.

Ongoing responses

Offer victims longer contact with services.

Frequently review victim's needs, as these will change over time.

Engage in multi-agency working and information sharing.

Recognise the value of adjunctive therapies.

Develop specific service models for victims of trafficking.
Identification of trafficked people
The review highlights several indicators that might suggest to healthcare professionals that their patient may be a victim of trafficking, including signs of abuse and neglect, unfamiliarity with the local language, being accompanied by a seemingly controlling companion and a lack of official documentation. There is potential for such indicators to inform the development of an easy to use checklist for frontline practitioners. Moreover, the review identified options to help potential victims disclose their situations, such as finding a private space for a consultation, taking time to gain trust and avoiding the use of companions or those accompanying the possible victim as interpreters. Yet, at the same time, it also suggests the range of potential concerns that providers might have about making these types of inquiries, including risks to patient and provider safety and the potential legal consequences for the victim of information sharing. These potential hindrances will need to be addressed by health policymakers in conjunction with the wider post-trafficking support network to enable and encourage providers to engage in an identification and referral process. Existing good practice guidelines for working with victims of domestic and sexual violence may be instructive in this regard [57, 58].
Care for survivors of human trafficking
Trafficked people may present to healthcare services with multiple physical, psychological, and social care needs. Responding to these needs requires that healthcare professionals adopt trauma-informed and culturally-sensitive approaches to working with victims of trafficking, conduct comprehensive health assessments, and collaborate with a range of agencies, including law enforcement and voluntary support services. Healthcare professionals' ability to provide care and to refer for further support is likely to be affected by the provision of temporary or permanent legal residency ('leave to remain') to survivors of human trafficking and the availability of stable housing, financial, and legal support [59]. Training for healthcare professionals should include information about in-country referral and support options for trafficked people and national reporting requirements, if applicable. At the local level, healthcare professionals should establish clear referral pathways and information-sharing protocols with relevant agencies.
Studies have highlighted the high prevalence and enduring nature of mental health problems among survivors of human trafficking in contact with support services [3, 4]. It is likely that psychological interventions to promote the recovery of trafficked people will need to take account of physical and sexual abuse during - and often prior to – trafficking and to work to stabilise physical and psychological health and to address social needs before commencing trauma-focused therapy [4]. However, no studies were identified that tested the effectiveness of psychological interventions for trafficked people. The acceptability of evidence-based treatments for post-traumatic stress disorder (PTSD) and depression – such as cognitive behavioural therapy, narrative exposure therapy, and eye movement desensitization and reprocessing – among trafficked people is uncertain, as is the generalizability of therapies effective for other traumatised groups such as victims of domestic violence and asylum seekers and refugees. Research to investigate the efficacy of psychological interventions for survivors of human trafficking is urgently needed.
Strengths and Limitations
The review used a comprehensive search strategy (including electronic searches, reference list screening, citation tracking and expert recommendations) and robust methodology to screen, extract, and analyse data. Data were synthesised using framework analysis, described in previous systematic reviews as useful in healthcare policy syntheses [12, 14]. However, the review is limited by a lack of evidence from primary studies. Furthermore, as studies predominantly referred to female or child victims of trafficking, limited conclusions can be drawn regarding best practice in responding to the healthcare needs of male victims. The review was restricted to materials reporting on high-income countries, and findings may not be generalizable to low- and middle-income country settings.
Implications for future research
This review identified several priorities for future research. Potential indicators of human trafficking have been described but are not underpinned by empirical evidence; research is needed to refine these indicators and to develop and test the sensitivity and specificity of screening tools to identify victims of human trafficking in healthcare settings. Research is also needed to evaluate the effectiveness of training programmes to improve not only healthcare professionals' knowledge and understanding of human trafficking, but also the identification of victims and appropriate referral and care. Evidence on victims' experiences and expectations of healthcare, including mental healthcare, is urgently needed to inform the development of resource and education packages, improve service provision, and investigate the generalizability of guidelines for working with victims of violence and with vulnerable migrants to this population. Crucially, in the face of strong evidence of high prevalence of depression and PTSD among victims of trafficking, experimental studies are urgently needed to test the acceptability and effectiveness of psychological interventions to support the recovery of this vulnerable population.
Conclusions
Fundamentally, human trafficking is a criminal form of extreme exploitation and abuse, from which individuals suffer multiple physical, psychological, and sexual and reproductive health problems. To foster recovery from this crime, healthcare professionals must be at the centre of responses for survivors. Responding to survivors' needs requires that healthcare professionals adopt trauma-informed and culturally-sensitive approaches, conduct comprehensive health assessments, and participate in a reliable referral network, including law enforcement and voluntary support services. Training for healthcare professionals should include information about in-country referral and support options for trafficked people and national reporting requirements, if applicable. At the local level, healthcare professionals should establish clear referral pathways, trustworthy points of contact and information-sharing protocols with relevant agencies. Further health services research is urgently needed to enable health professionals to fully engage in identifying, referring and caring for victims of trafficking.
Abbreviations
CBT, cognitive behavioural therapy; HIV, human immunodeficiency virus; PRISMA, preferred reporting items for systematic reviews and meta-analyses; PTSD, post-traumatic stress disorder; TF-CBT, trauma focused cognitive behavioural therapy
Declarations
Acknowledgements
The authors thank Laura Nellums for her assistance with title and abstract and full text screening.
Funding
All authors received support from the Department of Health Policy Research Programme (115/0006). LMH is also supported by a National Institute for Health Research (NIHR) Research Professorship (NIHR-RP-R3-12-011) and by the NIHR South London and Maudsley NHS Foundation Trust Biomedical Research Centre - Mental Health. DB is also supported by the NIHR Collaboration for Leadership in Applied Health Research and Care South London at King's College London. The authors acknowledge the support of the NIHR Clinical Research Network (NIHR CRN). This report is independent research commissioned and funded by the Department of Health Policy Research Programme (Optimising Identification, Referral and Care of Trafficked People within the NHS 115/0006). The views expressed in this publication are those of the author(s) and not necessarily those of the NHS, the NIHR, or the Department of Health. The funder had no role in study design, data collection, data analysis, data interpretation, or writing of the report. The corresponding author had full access to all the data in the study and had final responsibility for the decision to submit for publication.
Availability of data and materials
Summary information for all materials included in this systematic review are reported in Additional file 5: Table S1; citations for all materials are provided in the reference list.
Authors' contributions
SO, CZ and LMH designed and conceived the review. SH and SJ conducted the review and wrote the first draft of the manuscript. MA, DB, NS, CZ, LMH, and SO critically revised the manuscript. All authors read and approved the final version of the manuscript.
Competing interests
The authors declare that they have no competing interests.
Consent for publication
Not applicable.
Ethics approval and consent to participate
Not applicable.
Open AccessThis article is distributed under the terms of the Creative Commons Attribution 4.0 International License (http://creativecommons.org/licenses/by/4.0/), which permits unrestricted use, distribution, and reproduction in any medium, provided you give appropriate credit to the original author(s) and the source, provide a link to the Creative Commons license, and indicate if changes were made. The Creative Commons Public Domain Dedication waiver (http://creativecommons.org/publicdomain/zero/1.0/) applies to the data made available in this article, unless otherwise stated.
Authors' Affiliations
(1)
King's College London, David Goldberg Centre, London, UK
(2)
King's College London, London, UK
(3)
University of Central Lancashire, School of Social Work, Preston, UK
(4)
London School of Hygiene & Tropical Medicine, London, UK