Research article

Open Access

Open Peer Review
This article has Open Peer Review reports available.
Facilitators and barriers to implementing electronic referral and/or consultation systems: a qualitative study of 16 health organizations
BMC Health Services Research
2015
15:568
Received: 24 February 2015
Accepted: 11 December 2015
Published: 19 December 2015
Abstract
Background
Access to specialty care remains a challenge for primary care providers and patients. Implementation of electronic referral and/or consultation (eCR) systems provides an opportunity for innovations in the delivery of specialty care. We conducted key informant interviews to identify drivers, facilitators, barriers and evaluation metrics of diverse eCR systems to inform widespread implementation of this model of specialty care delivery.
Methods
Interviews were conducted with leaders of 16 diverse health care delivery organizations between January 2013 and April 2014. A limited snowball sampling approach was used for recruitment. Content analysis was used to examine key informant interview transcripts.
Results
Electronic referral systems, which provide referral management and triage by specialists, were developed to enhance tracking and operational efficiency. Electronic consultation systems, which encourage bi-directional communication between primary care and specialist providers facilitating longitudinal virtual co-management, were developed to improve access to specialty expertise. Integrated eCR systems leverage both functionalities to enhance the delivery of coordinated, specialty care at the population level. Elements of successful eCR system implementation included executive and clinician leadership, established funding models for specialist clinician reimbursement, and a commitment to optimizing clinician workflows.
Conclusions
eCR systems have great potential to streamline access to and enhance the coordination of specialty care delivery. While different eCR models help solve different organizational challenges, all require institutional investments for successful implementation, such as funding for program management, leadership and clinician incentives.
Keywords
Electronic referral
Electronic consultation
Access to care
Health technology
Specialty care
Implementation
Health system redesign
Background
Suboptimal delivery of specialty care is one of the most pressing issues facing our health care system today. Studies of diverse health delivery organizations have documented poor access to specialty care, with wait times as high as 6–12 months in some communities [1–3], and highly prevalent gaps in coordination and inter-provider communication. The current primary-specialty care interface results in avoidable specialist visits, duplicate testing, and delayed diagnoses [4]. In turn, this leads to inefficient use of scarce specialty resources [5], preventable harm to patients, and unnecessary costs. In the United States, passage of the Affordable Care Act is anticipated to increase demand for specialty care. New models for providing access to timely, coordinated, cost-effective specialty care are needed. Widespread adoption of electronic medical records (EMR) has fostered a growing interest in the development of electronic referral and/or consultation (eCR) systems to enhance communication among providers as well as streamline access to and improve coordination of specialty care delivery.
In 2007, San Francisco General Hospital (SFGH) implemented eReferral, a home-grown integrated eCR system that has enhanced access to and the delivery of coordinated specialty care while achieving high levels of satisfaction among primary care providers (PCPs) and specialists [6, 7]. With this eCR, specialist clinicians review each referral and use the system to schedule a routine or expedited clinic visit, recommend additional diagnostic evaluation before scheduling a clinic visit (pre-consultation exchange), or provide education and management without a visit (virtual co-management). Since its implementation, we have received inquiries from a wide range of organizations with differing payment structures interested in adopting the eReferral model. Because eCR systems result in new responsibilities for both PCPs and specialists, creating such a system is disruptive to the traditional specialty care model and thus challenging to implement. These challenges have been documented by individual organizations in Australia [8] and Canada [9] but a more comprehensive examination of implementation challenges is lacking [10]. To better understand the drivers, facilitators and barriers to adopting eCR platforms across diverse health care delivery systems in the United States, as well as to garner best practices, we conducted key informant interviews with leaders of health delivery organizations who had expressed interest in implementing an eCR system.
Discussion
To date, the term "electronic referral system" has been used in the United States to describe information technology systems with a wide range of functionality and specialist involvement. Some eCR systems are standalone web-based programs, while others are fully embedded into EMRs. Some are purely referral tracking tools, without any specialist clinician involvement prior to an appointment, while others offer electronic consultation as a means of providing timely specialty expertise for patients with low complexity issues. A small number of organizations have implemented integrated eCR systems where a specialist reviews each referral, thereby maximizing opportunities for pre-consultative guidance and virtual co-management; these are most similar to SFGH's eReferral system. While offering solutions to different organizational challenges, all eCR systems are actively changing the primary care-specialty care interface across diverse health care delivery settings.
We found that integrated eCRs have been implemented mainly in public health care systems that are responsible for a defined population of individuals and traditionally have had difficulties with specialty access. On the one hand, requiring specialty review of each referral request entails additional work for both PCPs and the specialist reviewers. This requires additional resources to compensate specialist reviewer time, and may prompt PCPs who are unable or unwilling to absorb the additional work of managing conditions they would usually refer, to seek alternate consultants. On the other hand, having a single entry point for all referrals to a given specialty provides a population health perspective for the system and better ensures that scheduled specialty visits are appropriate with complete pre-visit evaluations. In this manner, integrated eCRs enable health care organizations to act as stewards of scarce specialty resources and more effectively match supply of and demand for specialist expertise at a large scale, thereby maximizing population health [14]. That said, some Veterans Administration and Kaiser Permanente sites, two integrated health systems touted for their population-health management, have implemented eCRs that maintain separate electronic referral and consultation portals rather than an integrated eCR platform [15, 16]. It appears that these health systems encourage but do not mandate specialist review of all referral requests and do not compensate providers for this additional effort.
Per our interviews across diverse health care models, eCR systems that have developed into sustainable, successful systems are those that provide both electronic referral and consultative activities, including those that maintain the two as separate entities, as well as those systems that have integrated them into a single portal of entry. The technical platform and workflow inherent to an electronic referral system are often prerequisites for electronic consultative activities, but they are not sufficient. The important elements for successful implementation of electronic consultation systems that emerged from our data include funding for clinician reimbursement as well as program management, a marketing plan with positive messaging to stakeholders, a commitment to create efficient clinician workflows via system re-design and dedication to on-going quality improvement in response to key evaluation metrics (Fig.
1
). Integration of the consultative system with existing EMR platforms is also a facilitator for implementation, though it may not be absolutely necessary, given the success of some programs using standalone technologies. But, having a user-friendly, affordable eCR system is key for adoption and sustainability. Leaders of organizations that successfully implemented eCR systems also cultivated a collaborative approach, involving primary care and specialty care providers in the development of systems policies and referral guidelines to fully support stakeholder buy-in and end-user adoption. Many of the essential implementation elements in Fig.
1
are very similar to what has been previously cited for successful implementation of other health system changes in the United States, such as adoption of electronic health records [
17
], transformation of primary care practices into patient-centered medical homes [
18
], development of Accountable Care Organizations [
19
] and creation of care coordination agreements among primary care and specialty care providers [
20
].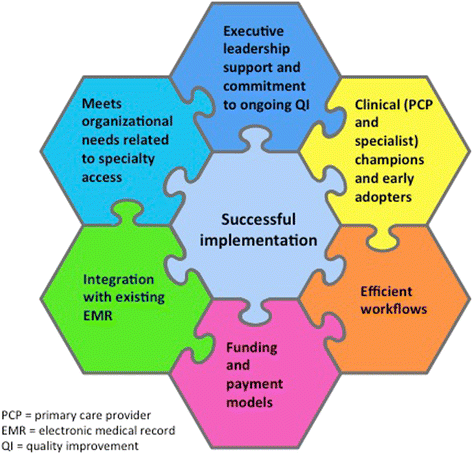 Importantly, elements of successful eCR implementation were consistent across diverse health care delivery models, including academic medical centers, private hospitals, and public delivery systems across the United States. Our study is timely, given the widespread need and interest for systems that enhance the coordination and value of specialty care. The American College of Physicians' Patient Centered Medical Home-Neighborhood framework for care delivery and the National Council on Quality Assurance's Patient-Centered Specialty Practice Recognition program both promote specialty care coordination through tracking and coordination of referrals with the goals of enhanced communication and population management for specialty practices [21, 22]. eCR systems and other technologies that encourage knowledge sharing in new and efficient ways have great potential to advance these goals [23]. Highlighting this point is a $7 million Centers for Medicare and Medicaid Innovation grant recently awarded to the American Association of Medical Colleges to implement and evaluate eCR platforms in five U.S. academic medical centers [24].
Many questions regarding eCRs remain unanswered. Financial evaluation of eCR systems is nascent at this time. Data from our organization and others have demonstrated improved access to and efficiency of specialty care delivery with electronic consultation systems, with a shift from in-person visits to virtual co-management, which presumably decreases overall costs to the system [25, 26]. But, eCR systems increase PCP costs in the form of a greater burden to provide care that would have otherwise been provided by specialists and specialist costs in the form of time spent reviewing and responding to electronic consultations [15]. Robust measures of patient experience as well as of clinical impact on both individual patient outcomes and population health are needed.
Like all qualitative studies, there are limitations to our results. Interviews were conducted with only 1–2 leaders of each organization while eCR systems rely on support from many leaders in a health care system. Thus responses reflect the views and knowledge of those individuals and may not be representative of others in leadership roles. However, we believe that we identified the individuals most knowledgeable and responsible for eCR system implementation within each organization. After data analysis, we became aware of additional organizations that had implemented eCR systems, including some Veteran's Administration and Kaiser Permanente sites [12, 15, 27]. Given the similar drivers, barriers and facilitators noted by leaders from diverse systems involved in various stages of eCR maturity (i.e., from pilot studies to full expansion), the themes presented in this analysis are likely applicable to those organizations as well.
Conclusion
In summary, eCR systems have great potential to streamline access to and enhance the coordination and appropriateness of specialty care delivery. With several different eCR models from which to choose, health care leaders interested in implementing an electronic referral or consultation systems would be wise to begin with a clear understanding of their organization's challenges and what problems they are seeking to address with an eCR. In addition, there are key institutional investments that are required for successful implementation, such as funding for program management and clinician incentives. As organizations gain greater experience with existing systems, more data will emerge with regards to key eCR platform functionality, costs, and clinical impact. Meanwhile, policy makers and payers should encourage ongoing development and evaluation of eCR systems. Clarification of the medico-legal implications of electronic consultation, for example, could mitigate one barrier to eCR implementation. Reimbursement of specialist reviewer effort and/or care coordination and financial support for the development of eCR software that can integrate with existing EMRs could also spur further innovation in this area of health system redesign.
Abbreviations
eCR:

electronic referral and consultation
EMR:

electronic medical record
PCP:

primary care provider
SFGH:

San Francisco General Hospital
Declarations
Acknowledgements
This work was supported by the California Healthcare Foundation. The sponsor had no role in study design or conduct; data collection, management, analysis or interpretation; manuscript preparation, review or approval. DST is supported by K23DK094850 as well as the National Center for Advancing Translational Sciences at the National Institutes of Health, through UCSF-CTSI Grant Number UL1 TR000004. The contents of this manuscript are solely the responsibility of the authors and do not represent the official views of the NIH.
Open AccessThis article is distributed under the terms of the Creative Commons Attribution 4.0 International License (http://creativecommons.org/licenses/by/4.0/), which permits unrestricted use, distribution, and reproduction in any medium, provided you give appropriate credit to the original author(s) and the source, provide a link to the Creative Commons license, and indicate if changes were made. The Creative Commons Public Domain Dedication waiver (http://creativecommons.org/publicdomain/zero/1.0/) applies to the data made available in this article, unless otherwise stated.
Authors' Affiliations
(1)
Division of Nephrology at San Francisco General Hospital, University of California, San Francisco, San Francisco, USA
(2)
Center for Innovation in Access and Quality at San Francisco General Hospital, University of California, San Francisco, San Francisco, USA
(3)
Division of Endocrinology at San Francisco General Hospital, University of California, San Francisco, San Francisco, USA
(4)
Division of General Internal Medicine at San Francisco General Hospital, University of California, San Francisco, San Francisco, USA