Aims and scope
BMC Health Services Research is an open access, peer-reviewed journal that considers articles on all aspects of health services research. The journal has a special focus on eHealth, governance, health policy, health system quality and safety, healthcare delivery and access to healthcare, healthcare financing and economics, implementing reform, and the health workforce.
Collections open to submissions
Guest Edited by Siri Wiig and Jane K. O'Hara
Guest Edited by Michel Landry and Clarissa Giebel
Guest Edited by Magdalena Szaflarski
Featured news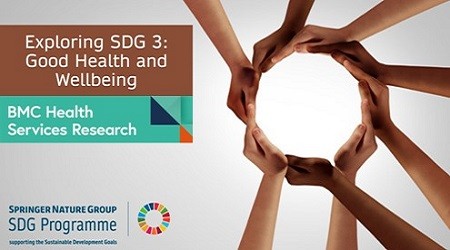 Meet our Editorial Board Members working on the Sustainable Development Goals.
Our values
BMC Health Services Research is a BMC Series journal. Our ethos is to be open, inclusive and trusted
We are committed to improving diversity and inclusion in research publishing
We support the UN's Sustainable Development Goals
BMC Health Services Research Blogs

Editor's choice
Peer Review Taxonomy
This journal is participating in a pilot of NISO/STM's Working Group on Peer Review Taxonomy, to identify and standardize definitions and terminology in peer review practices in order to make the peer review process for articles and journals more transparent. Further information on the pilot is available here.
The following summary describes the peer review process for this journal:
Identity transparency: Single anonymized
Reviewer interacts with: Editor
Review information published: Review reports. Reviewer Identities reviewer opt in. Author/reviewer communication
We welcome your feedback on this Peer Review Taxonomy Pilot. Please can you take the time to complete this short survey.
Affiliated with

For more information about how to claim the 20% Health Systems Global Member discount on our article processing charges, please click here.
Annual journal metrics
Speed
96 days to first decision for reviewed manuscripts only
62 days to first decision for all manuscripts
217 days from submission to acceptance
16 days from acceptance to publication

Citation impact
2.655 - 2-year Impact Factor
3.297 - 5-year Impact Factor
1.445 - Source Normalized Impact per Paper (SNIP)
1.098 - SCImago Journal Rank (SJR)

Usage
6,851,288 downloads

Social media impact
5912 Altmetric mentions
Follow
Sign up for article alerts and news from this journal